Tree Removal Services in Columbia, SC
Gaycas Tree Services provides full tree removal service in Columbia, Blythewood, Irmo, Lexington, Chapin and surrounding areas. Call us to receive a free quote.
Gaycas Tree Services
offers full
tree removal service
in Columbia, SC
and surrounding areas. We understand that trees are essential to our environment and provide many benefits. However, there are alwahys exceptions to the rule. Trees may start to overgrow into unwanted spaces, become diseased, or may just poses a risk to you, your family or home saftey. Whatever the reason may be, our team has the knowledge, skills, and resources to take on any type of tree removal project. In addition to tree removal, we also offer land clearing,
tree planting (Sabal Palm Tree Installation)
and much more. Our arborists have well over a decade of experience in this industry and are ready to assist you. We are only a phone call away .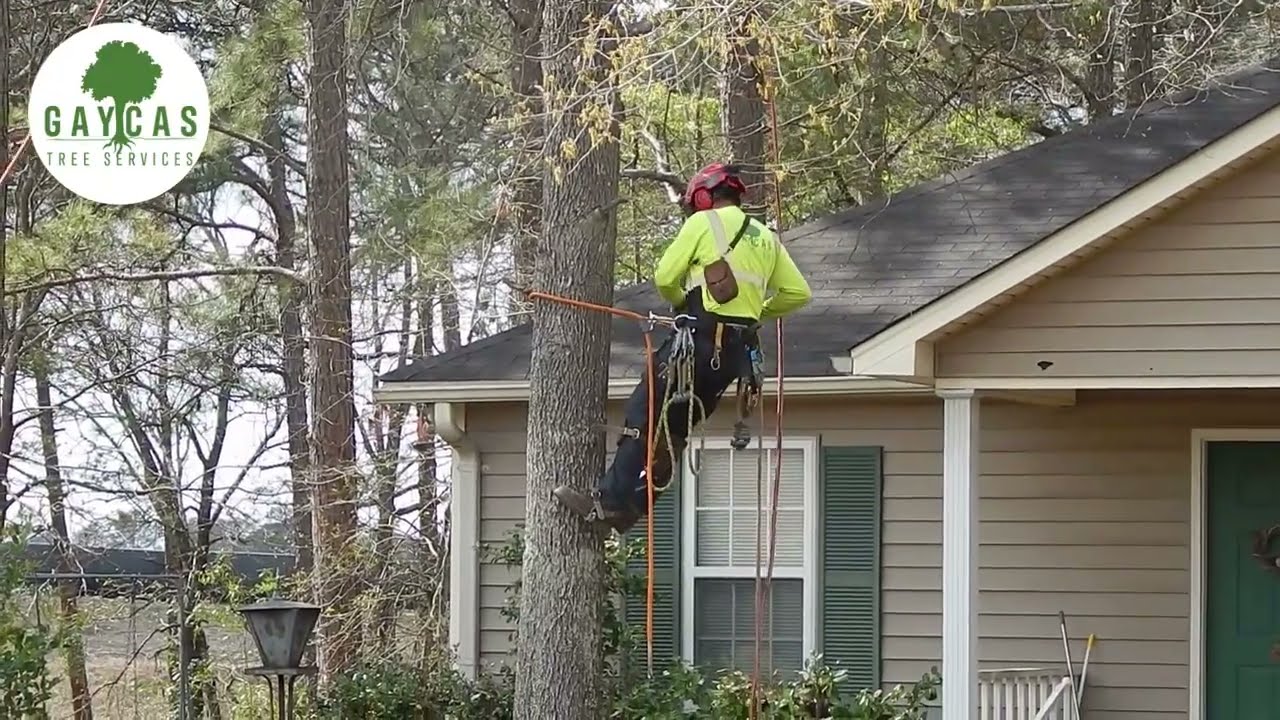 Our team of experts have more than 15 years working in the tree service industry
All trees have their own unique complexities which include but are not limited to size, height, width, location, etc. Our priority is to understand your tree removal or tree trimming needs and provide you with the best and honest solution. It can be as simple as, trimming a few branches, to as complex as, removing an unsafe tree that is very close to the house (which at that point has become a hazard). Whatever the job at hand may be, our staff is highly trained to successfully complete the job. You can find some of the projects our team has completed by selecting the '
Services
' page. Remember,
tree removals
should NEVER be attempted by someone without experience. Call us and we will gladly assist you. "We pride ourselves in delivering high quality results for our customers."
We pride ourselves in delivering high quality tree removal services for our customers!
Our tree cutting service is fairly simple and straightforward. At no charge, our tree specialist will meet you at your location to go over the tree removal service details. We provide you with a high-level overview on how the job will be completed and answer any questions you may have. From start to finish, you will always have direct communication with us. To get your free quote call the office at
803-354-7085
or fill out the tree removal quote request form located below.
South Carolina Service Area:
City of Columbia, SC

West Columbia, SC

Lexington, SC

Hopkins, SC

Gaston, SC

Irmo, SC

Eastover, SC

Blythwood, SC

& More
Are you afraid your tree might fall on your home?
The correct sharp angle cut determines where the tree will land. The importance of this skill becomes indispensable when the tree is located near your home. Our experts are able to accurately land the tree in the pre-selected area away from your home.
Looking for a "
tree clearing service near me
" look no further! Gaycas Tree Services will provide you with the most knowledgeable tree cutting service to meet your needs. Our tree experts can help you eliminate your concern by removing any tree that is located close to your house. The proximity between the tree and your dwelling can vary; therefore, prior to any work being initiated, our tree specialist comes up with a well elaborated plan of action to safely complete the job. Every action taken is carefully analyzed in advance to ensure our safety and the safety of others. Reference "
Our Services
" tab to find more descriptive details of the work our team of experts have performed.
Tree Removals

Tree Trimming

Stump Grinding

Land Clearing

Debris Clearing

Seasoned Firewood

24/7 Emergency Storm Clean-Up

Emergency Tree Services in Columbia SC

Sabal Palm Installation
Price: 4ft * 8ft Rack = $150 *Delivery included to local areas of Columbia, SC
Call to place your order
"It gives me great pleasure to recommend Gaycas Tree Removal. They are personable, competent, and have remarkable work ethics. They were fair in price, too. I never had to remove a tree and I was a tad nervous; yet excited to see how one does it. They carried on, getting the job done effortlessly and leaving my yard clear and clean!"
"Great work! Very satisfied. Have already recommend them to everyone I talk to. Got more value for my money than I expected. Will use them again if need arises. The tree they took down. It was over 40ft and within a foot or so next to my house. Call them!"
"I was very happy with the service and professionalism of the team at Gaycas Tree Services from beginning to end. I had several trees to remove near my house and they made getting them removed an easy process all the way from getting an estimate to cleanup. I would not hesitate to recommend them for small or large jobs. They are very skilled at what they do."